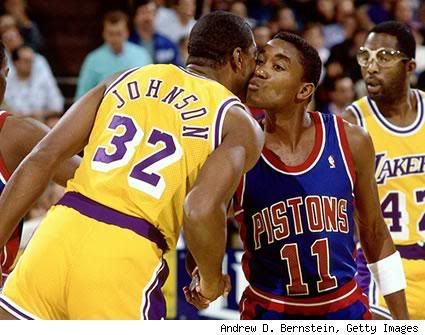 I have been reading Magic and Bird's  new book (When The Game Was Ours) to review for the Fanatics, but I had not gotten to this part yet.
From ESPN.com
MIAMI — Isiah Thomas told SI.com that he is "really hurt" over criticisms levied by Magic Johnson in a new book chronicling the careers of Johnson and Larry Bird.

"I'm really hurt, and I really feel taken advantage of for all these years," Thomas told SI.com. "I'm totally blindsided by this. Every time that I've seen Magic, he has been friendly with me. Whenever he came to a Knick game, he was standing in the tunnel [to the locker room] with me. He and [Knicks assistant coach] Herb [Williams] and I, we would go out to dinner in New York. I didn't know he felt this way."

According to SI.com, the book details Johnson's contention that following his retirement in 1991, after he was diagnosed with HIV, Thomas started questioning the former Los Angeles Lakers star's sexuality.

In the book, titled "When The Game Was Ours," Johnson also describes his role in keeping Thomas off the 1992 U.S. Olympic Dream Team, according to SI.com.

"Isiah killed his own chances when it came to the Olympics," Johnson said in the book, according to SI.com. "Nobody on that team wanted to play with him . . . Michael [Jordan] didn't want to play with him. Scottie [Pippen] wanted no part of him. Bird wasn't pushing for him. Karl Malone didn't want him. Who was saying, 'We need this guy?' Nobody."

Thomas, now coaching at FIU in Miami, said he declined a chance to be interviewed for the book. He appears on at least 26 pages of the book, which Johnson and Bird wrote with author Jackie MacMullan, a former Boston Globe reporter currently with ESPN.com.

FIU had no immediate comment. Thomas' spokesman said the remarks were accurate. Thomas was scheduled to be available to reporters later Thursday night at an alumni event.

The book comments by Johnson are the latest salvo in a strained relationship, once made famous by the pre-NBA Finals kiss and a pair of crowd-pleasing 1-on-1 battles in the final moments of the 1992 NBA All-Star Game.

Last fall, Johnson said he would not recommend Thomas for any other NBA jobs, after Thomas' rocky stints with both the Indiana Pacers and New York Knicks.

"I wish he would have had the courage to say this stuff to me face to face, as opposed to writing it in some damn book to sell and he can make money off it," Thomas said to SI.com.

Thomas also told SI.com that he did not question Johnson's sexuality, adding that Johnson "acted and responded off some really bad information that he got."

Information from The Associated Press was used in this report.