(During the Las Vegas Summer League, I had the opportunity to talk and hang out with Harry Douglas, III, the father of the Knicks' pick at the 29th spot, Toney Douglas, a very talented combo guard (they would say "point guard") from Florida State.  In speaking with Toney's dad, one gets a good understandin
g of why Douglas seems so grounded and focused on and off the court.  Daddy Douglas is old school and it shows in the produ
ct of his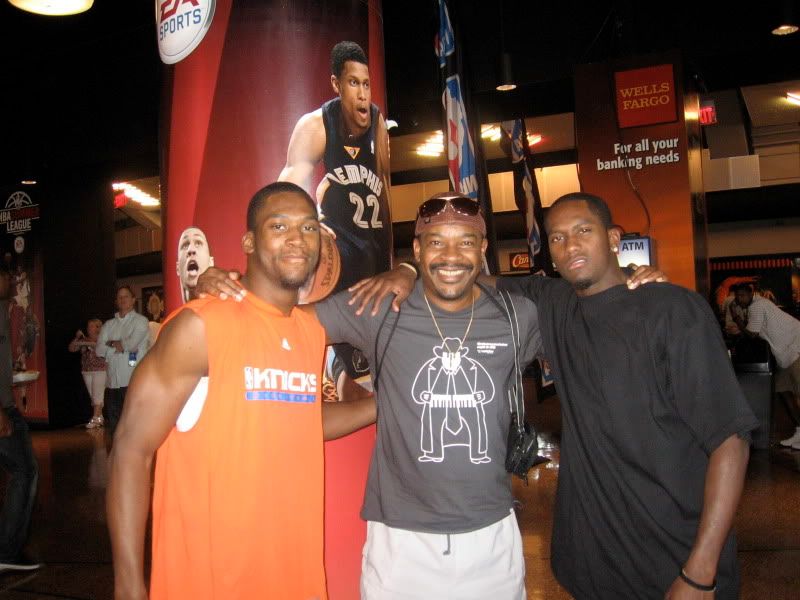 labor — he has two sons that are
professional athletes.  Toney's older brother, Harry Douglas, was preparing for his second season as a wide receiver for the Falcons when I talked with his father and joked around with the siblings.  Unfortunately, since then the
older Douglas sibling tore his ACL and will miss the entire football season.
Meanwhile, Toney is poised to make a mark and perhaps play more minutes immediately than the Knicks' lottery pick Jordan Hill.  And according to Dad, he expects Toney to have a very lengthy career if he does the things he needs to to be prepared night in and night out.)
LIVES: How do you feel about your son's performance [in the Summer League] thus far?
Daddy Douglas: I feel like it's good that we are in the summer league so that we can get adjusted to the NBA game.  When the season comes and the coach puts him out there he will know what the expectations are.  I'm really thrilled with the way he's playing. He's showing that he can play with these guys and that he belongs.  I think he's doing real well.  There's a lot of things, just like all the kids, that need improvement, to work on.  This is a better place to do it.
LIVES: Do you feel that he might be in the league for a while and maybe a starter at some point?
Daddy Douglas: Well, I don't know if I will go that far, but I can say this, if he stays healthy, and I know he's a good learner and he's willing too learn, he can't have anybody better than coach D'Antoni to teach him the game the way the game is supposed to be played.  I think yeah, he can play 10-12 years.  But all that depends on being healthy and him doing what he is supposed to do.  
LIVES: You also said that you have another son that is in professional athletics – how did you pull that off and to wind up with such level-headed gentlemen?

Daddy Douglas: First of all I'm a disciplinarian. My kids they understand how to respect authority.  So, I always told them that it's not ball; ball is not you, you are ball. It's how you present yourself and how you carry yourself and your character at the end of the day will take you a long ways.  I am proud because both of them have their college degree. That's the thing that I am most proud of.  And the dedication and the time that we spent in the gym, working, playing baseball, and football is why they're where they're at right now.
LIVES: Did Toney play any football at all?
Daddy Douglas: Toney played football and baseball.  I'll put it like this, he could've played professionally in either sport.
LIVES: What did he play? Give me his football experience.
Daddy Douglas: He played quarterback. Toney right now could probably throw the ball eighty yards.
LIVES: So he can take a hit too?
Daddy Douglas: He can take a hit.  Toney is just a gifted athlete. He was the best pitcher in little league when he was coming up till the age of fourteen. I mean, no kid wanted to get up to the batter's box.  He was throwing the ball at 92mph at the age of 12 and 13. . . .His little league team went 48-0 in four years. 
LIVES: Do you know what his pitching record was?
Daddy Douglas: Well, I tell you what, he pitched a lot of no-hitters.  He knocked a lot of home runs. He was a heck of an athlete. One year we qualified for seven world series.

LIVES: I notice that here in the summer league he hasn't driven [to the hoop] much.  Is that something we will see or is that not part of his game?
Daddy Douglas: Toney could do that.  You've just seen just a minute ago, he could go to the rack.  Toney is a team player.  What he does is that he is trying to get all his other teammates involved.  When it's time for him to do the things he needs to do, he'll do it.

LIVES: So clearly from what you're telling me, he is a leader?
Daddy Douglas: He's a leader.  He's a natural born leader .  He's always been all of his life and he is adaptable.  See Toney is one of those kids, he'll sacrifice his game for the betterment of the team. That's the kind of kid [he is] and that is every coach's dream to have a player like that, to have a kid that's willing to sacrifice his game for the team.  Whatever you ask of him, Toney doesn't care if he doesn't score any points.  As long as he goes out there and plays defense and do what the coach tells him to do and they're winning, he's happy.
LIVES: He's living a dream?

Daddy Douglas: He's living a dream.  He's having a great time and I tell you one thing that I like about my son is that he is a humble young man. Nothing goes to his head.  He's going to walk out the door like he's any other guy at the end of the game.  That's what I'm proud of.

LIVES: You're also a scout, so you know basketball skills.  When you're looking at a point guard, what are you looking for?

Daddy Douglas: I'm looking for leadership.  I'm looking for a kid that is going to be able to make sacrifices, sacrifice his game for the team.  Pass first, score second. Then attitude. Does he have the attitude to do what the coach asks him to do.  You have to have tough skin. But most of the qualities are leadership and attitude.
LIVES: Toney is a superb defender. My friends in D.C. who watched him play ACC ball say he is the man.  Have you seen any of these highly rated guards here in the Summer League that he can't guard.
Daddy Douglas: There's nobody out here that he can't guard.  As a matter of fact, I always tell people that when he steps on the floor they need to worry about him.  He doesn't worry about them and I am not saying that with any arrogance. I feel like Toney will have an opportunity this year, playing with the Knicks to show what he really is, now at that level.  As a matter of fact, a lot of these guys dodged him in workouts; they wouldn't come. 
LIVES: As a New York fan, I am real interested in defense.  I read that D'Antoni has made a commitment to defense this year and it is my opinion that last year D'Antoni did not really focus on defense. It is going to be interesting to see how the Knicks are going to adjust because most of the players aren't defensive-minded.  I am curious as to how Toney is going to be able to handle that.

Daddy Douglas: Well, I tell you what, he's going to lead them into defense if they don't know how to play defense. And those who don't play defense' he'll say something. Like I said, he is a leader. He is a competitor and he is going to make them play defense. [He] is going to rub off on them.