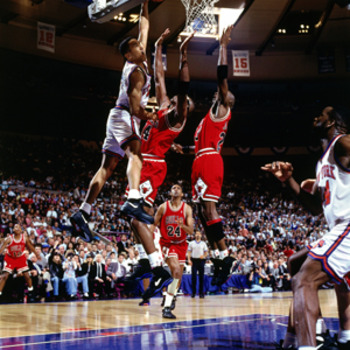 I'm currently reading "My Life" by John Starks. I read it a few years ago but I had to give it another read. It's a great book with revealing insight into the Golden Age of the modern Knicks and of John's incredible journey to get to the NBA. At the end of the book Starks lists what he believes to be the Best Team. Granted this book was published in 2004 so his team may have some updates but as of the date published, this was his starting 5.
Michael Jordan and Magic Johnson in the backcourt
Larry Bird and Charles Barkley at the forward spots
And Patrick Ewing at Center
He explains: "People might argue with me over the center and power forward positions, but I knew what Patrick stood for when he took the court. He was going to give it everything he had. He was a presence in the middle. Hakeem was great too, but I'd take Patrick over him and david Robinson. I respect karl Malone a lot, but I have to give Barkley his due. he was only 6-5, but he was a monster underneath."
Do you think this list needs some updating or do you agree with Starks? Have any modern day players surpassed the great ones who were recently inducted into the Hall of Fame?