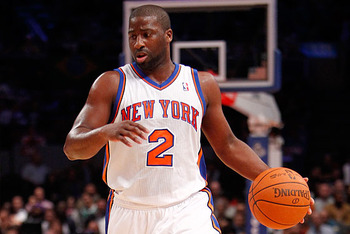 Knicks Push Win Streak to Four
All eyes have been firmly fixed on Raymond Felton during the Knicks recent winning streak. Last night, he once again led the team to a 110-107 victory.
Facing the Charlotte Bobcats  in the first game of a home and home matchup, Felton put the final nail in his former team's coffin by hitting two free throws with less than three seconds left to play.
In addition to the clutch free throws, Felton posted 16 points and 9 assists. Toney Douglass led the Knicks with 22 points while all five starters scored in double figures.
The Bobcats certainly hurt their own cause, namely Stephen Jackson, who missed 15 of his 22 shot attempts. DJ Augustin, Felton's former backup, couldn't overcome Jackson's poor shooting. His 24 point, 5 Rebound and 7 assists stat line kept the Bobcats close enough to threaten to snatch a win from the clutch of the Knicks, who held a lead for most of the game, before floundering in the 4th quarter.
Danilo Gallinari made all 8 of his free throws putting his consecutive make streak at 42, just two short of Chris Duhon's team record of 44.