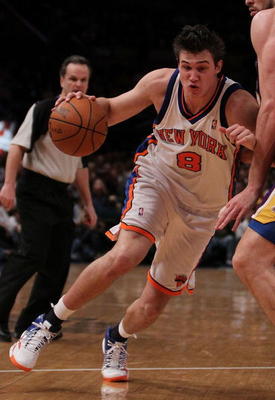 The Melo-drama has subsided with the Nets' withdrawal from trade talks with Denver. While some are reporting the deal dead, Marc Stein of ESPN correctly assess the matter as "dormant." Nets executives have previously stated that such deals don't necessarily occur over-night.  Trade talks could easily be revived prior to the February trade deadline if Anthony actually agreed to sign an extension in favor of the Nets and the Nuggets are unable to find a better deal.  Carmelo could also be traded in another deal which could include the Knicks.
While Knicks brass may be breathing a sigh of relief, the delay is neither positive nor negative as far as New York is concerned at this point.  It is what it is. The Knicks may want Melo for his star-power but no one is sure that Melo would mesh with Stoudemire or whether his presence, over the long-term, is better than that of the young guns, Wilson Chandler, Danilo Gallinari and Anthony Randolph, all of whom have been mentioned as possible trade bait. What is certain is that the young guns are here and Knicks management needs to keep them and the fan base focused on their development instead of trade talks they cannot control.   Since this is New York and fans are not satisfied with losing the LeBron sweepstakes, this is easier said than done
Despite the rumors swirling around the Knicks regarding Carmelo, the Knicks brass remains eager to sell the potential of both Danilo Gallinari and Anthony Randolph to the Knicks faithful, even-though their sales pitches may be a little contradictory.  In one interview Gallo may be the best young prospect in the league today and in another, Randolph may be more talented than the slightly proven Gallinari.  Whatever.  It's all good if they're good.
When discussing his young guns, Walsh said he did not tamper in the Denver matter and was out of the discussion pretty quickly because he had nothing Denver wanted.  Nevertheless, he thinks his boys are star material.  He confesses that between AR and Gallo,  Randolph is the greater talent but at draft time he was concerned that Randolph was physically too much like Jonathan Bender to draft him ahead of Gallo.
"If Gallo came out this year, he would have been a No. 1," D'Antoni said, meaning of the entire draft. — Mike D'Antoni
Clearly, the Knicks are walking the tight rope as they try to not to panic as their plan A for July 2011 seems ready to dissipate at a moments notice.  But all they can really do is stay in the moment and increase the value of what they've got.