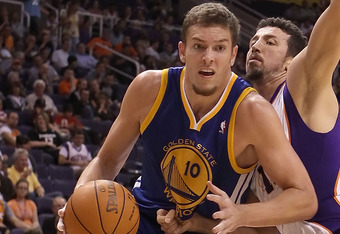 Of course David Lee has far too much class to exactly say that Walsh dissed him before agreeing to a sign and trade to Golden State, but the former Knicks forward made it clear in a recent interview with the New York Times,  that Walsh made no effort to talk to him for any reason during the summer.  If fact, despite his loyalty and hard work,  Walsh did not speak to Lee's team until his agent brought him the idea of a sign and trade with Golden State, which is where Lee decided to go because he felt wanted there.
In Lee's words:
"I'm not even sure they [the Knicks] made phone calls whatsoever. It was pretty much assumed if they wanted to make any further contact that they would have let us know, and there was never a phone call until the sign-and-trade, and they said they were ready for that."

"I'm not sure I was ever really the guy for that regime."

"You know what, if New York gets LeBron James, then everything we're talking about is a completely different tone. We say: 'Man, Donnie Walsh is a genius, you bring in LeBron James, everything. Wow, what a master plan the whole way around.' But unfortunately, LeBron still had to make his own decision and he decided to go elsewhere and I don't think that was New York's fault, but he decided to do what he wanted to do, so I guess the master plan didn't go the way it was supposed to."
David is gone now, but he was meant to be a Knick.  He represented the type of work ethic and demeanor of the old school Knicks.  He would have been great beside Stoudemire, probably making it easier to dominate inside and get to the basket without forcing the matter because David would demand attention from 15-feet in.  Additionally David is an excellent passer.  But now he is making Warrior fans happy as their starting forward for a 4-1 team and he is playing his natural position next to a bona fide center in Andris Biedrins.
I know.  Many of you disagree and think the Knicks are better without David Lee.  Well we'll just have to agree to disagree because I am a Lee fan and will be for a long time.  He represented the Knicks well during very difficult times.  But you must admit, Walsh should have treated him with more respect?  Is that what you would expect from your boss or how you would treat your employees?
Godspeed David.
For you newbies here, we, Fanatics, already knew that Walsh was dissing Lee as we got the entire story, the close-to-reality fictitious version, right here when Walsh had his "Exit Interviews" at the end of last season.