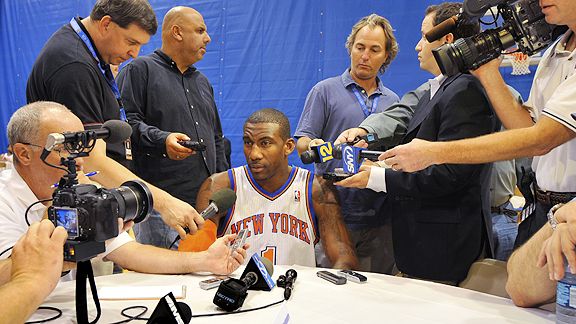 Does Marc Berman of the NY Post (3rd from left) look ready to leave or what?  LOL
I don't care what you call him – Studdy, Stud-a-muffin, Amar'e Amore, STAT or Dunkmaster Flash — this man was molded to be a New York Knick.  Forget what's happening on the hardwood floor — because there is nothing to remember yet — but you must appreciate how he's bringing "it" to the media and his marketing efforts.  After Stoudemire firmly took the reins of team leadership by taking 10 of his teammates to a New York Yankees game where he rented a suite and threw out the first ball, Stoudemire spoke to the media for an hour on media day about the new energy that is the New York Knicks. He said the playoffs are a must for the Knicks and he was ready to be a leader.
Although Stoudemire expressed a desire to have Carmelo as a teammate and told the media of Melo's love for New York, he still sold the team and New York like a professional pitch man.
Regarding LeBron James, he sounded like most New Yorkers who have gotten over LeSnub.
"LeBron has nothing to do with me. His decision was his decision, and I think his decision may have been made years prior to the summer. It has nothing to do with me, my dedication is to the city of New York. I came here when the Knicks were down and out. I think the Knicks fans feel the exact same way about me. I think they have my back."
Although , he is very refreshing for the New York sports media, they will eventually turn his every move into a free fall. It's the New York media way.  Marc Berman, who tends to be more liberally objective than most, already referred to Studmuffin's verbose accessibility to the media as "yap[ping]" and a "rant" as though the reporter had somewhere else to be on media day.
Don't worry Studdy, we got your back even while they try to stab it with a butter knife!!!