Ask an average NBA player, any average NBA player, if he can develop into a star, and chances are the ballplayer will nod in bobblehead form and swear he merely needs the right coach, the right system, and the requisite amount of touches and shots.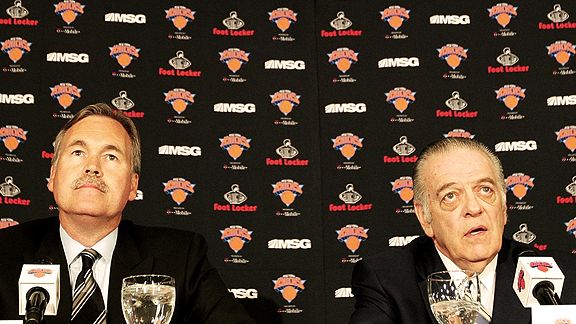 KINGS OF NEW YORK'S PIMPS 
Ask Danilo Gallinari if he can grow into a star or superstar over time, and suddenly you hear a taxicab confession in the middle of the losers' locker room.
"I don't think so," Gallinari said.
Excuse me?
"I will try to work as hard as I can to help the team win, that's my goal," Gallinari said Wednesday night after his New York Knicks lost to the Golden State Warriors by a 122-117 count. "My goal is not to be a superstar." 
Gallinari had just emerged from the Madison Square Garden showers, where he tried and failed to wash away his big misses in the fourth quarter. He took three shots in the final 83 seconds of a frantic game, two of them open 3-pointers that could have ruined David Lee's homecoming night, and 24 hours after a dreadful 1-for-6 performance in Milwaukee, Gallinari fired nothing but blanks.
No, it wasn't all his fault, not even close. Raymond Felton doesn't know how to run the pick-and-roll with Amare Stoudemire, and the Knicks still play team defense as though it's a suggestion, not a mandate.
But Donnie Walsh and Mike D'Antoni need the 22-year-old Gallinari to develop into something special, or at least something damn close to special. Walsh and D'Antoni made the Italian forward their program's very first draft pick, taking him ahead of Eric Gordon and Brook Lopez.
In fact, the Knicks used Gallinari as part of their doomed summertime sales pitch to LeBron James. They presented James' people with statistics favorably comparing their 6-foot-10 hopeful to the likes of Peja Stojakovic, Rashard Lewis and Hedo Turkoglu in the early stages of their careers.
So Wednesday night, with LeBron long gone and Anthony still off somewhere in the distance, Gallinari was reminded that some smart basketball people believe he has the talent to be a star, maybe a superstar.
"I don't know," he said. "I don't think I have those abilities."
You don't?
"No. To get to be a superstar you have to have a lot of things, and if you compare me to Carmelo and LeBron … there's a big difference. It will still take a lot of work." * ESPN
You can't blame Gallo for the Knicks Pimp job that is blowing up in the Knicks faces. It is now clear that Gallo was set up for failure by Walsh & Dantoni. Such hyperbole as Dantoni saying " He's the best shooter I've ever seen" and the New York MSM making him out to be Superman while Gallo's true abilities are surrounded by KRYPTONITE may most likely put this kid near a nervous breakdown. It is now easy to cheer this kid on now that the "Pink eye" has been cleared up by Gallo's own self induced ingestion of Antibiotics. "
So what's the kid's upside?
"I think the level of Dirk," Gallinari said.
Dirk Nowitzki? Yes, that's more like that.
"I think I can get near to that," Gallinari said. "I don't know if I can get there."
With Gallo now being Humble it is easy to cheer him on to become what he is …. a 6TH-7Th man on a good team. Walsh & Dantoni need to heed the lesson in 
Gallo's fall to earth. "Any party which takes credit for the rain must not be surprised if its opponents blame it for the drought."~Dwight Morrow