( A MODI JOINT)
Isiah's Suicide Mission: Revisiting the Worst Roster in NBA History
December 31, 2008 by MODI
Pop Quiz: Who is averaging the least amount of points this year? (2008)
A) David Lee
B) Wilson Chandler
C) Nate Robinson\
D) Entire 2003 Knicks Roster
Answer: D…
Last week marked the 5th anniversary of Isiah Thomas taking over as President/General Manager of the New York Knicks. With history as our guide, it is time to give him a fresh evaluation. Just how historically bad was the roster he received on December 22, 2003?
Last week marked the 5th anniversary of Isiah Thomas taking over as President/General Manager of the New York Knicks. With history as our guide, it is time to give him a fresh evaluation. Just how historically bad was the roster he received on December 22, 2003?
Rumor has it Barack Obama turned down the job.
Here are six reasons why:
The 2003 Knicks – A Five-Year Retrospective:
1) NO PLAYERS
2003 Knicks: 13 of 15 Knicks are now out of the NBA — no misprint.
Rest of NBA: Most teams still have at least half their roster still in the league. Example
The Oklahoma City Thunder, the NBA's worst team at 3-29, still has 10 players and five starters in the NBA from its 2003 Sonics squad that included Ray Allen and Rashard Lewis.
2) NO STARTERS LEFT
2003 Knicks: Antonio McDyess and Kurt Thomas come off the bench.
Rest of NBA: All other 29 teams have either three starters or an all-star still in the league.
What Would a Real GM Do? The Memphis Grizzlies' Jerry West — considered the best GM in 2003 — had Pau Gasol, Shane Battier, Mike Miller, James Posey, and Earl Watson – still a serviceable starting five today. After some awful drafting [1], West signed free agent Brian Cardinal to a Jerome-sized contract minus the James-sized ridicule. Besides Rudy Gay, little was received in return for the Grizzlies' traded talent. In 2007, West resigned, and Memphis is currently 10-21.
3) NO TRADE CHIPS:
2003 Knicks: Only Kurt Thomas and his reasonable salary was tradable. McDyess was coming off 2nd major surgery, Charlie Ward's Heisman trophy had no trade value, and Michael Doleac just wasn't creating that buzz. Isiah's only viable trade options were draft picks and expiring contracts
Rest of NBA: Unheard of.
What Would a Real GM Do? The Sacramento Kings Geoff Petrie had Mike Bibby, Peja Stojakovic, Brad Miller, and Gerald Wallace. Only Miller remains, as Petrie was ultimately only able to parlay the rest into Shelden Williams and a 1st round pick [2]. Today the Kings reside at 7 – 24
Roster Reality: Isiah left new Knick GM Donnie Walsh at least seven tradable players and several options. Last month Walsh was able to trade Jamal Crawford because he wasn't Jamaal Tinsley [3]. Walsh also traded Zach Randolph for shorter contracts. How? Because talented players are tradable.
4) NO SALARY CAP SPACE:
2003 Knicks: Isiah inherited a long-term commitment to the NBA's highest payroll. On day 1, Allan Houston and Keith Van Horn alone were on the books for 35 million – the 2006 books! Houston's bum knee would soon end his career, but not his monster paychecks. Well-paid men named Howard Eisley, Shandon Anderson, and Clarence Weatherspoon were only tradable for bigger contracts.
Rest of NBA: Only a handful of 2003 teams were significantly over the cap.
What Would a Real GM Do? After an impressive first year, the Bulls' John Paxson was quickly hailed as a shrewd decision-maker, was cracking "top 5" in media GM rankings, and was a great example of "rebuilding the right way". Paxson was able to clear enough cap space to sign an old Ben Wallace to a $60 million contract before giving away a young Tyson Chandler as part of a series of terrible moves and non-moves. Luckily for Paxson, a ping-pong ball with Derrick Rose's name on it will likely save his career.
Roster Reality: The notion that Knick media and fans would support and accept Thomas waiting 3 or 4 years just shed salary to make a free agent-run at "grand prizes" Ben Wallace or Rashard Lewis is more absurd than Houston's $100 million contract. Building teams thru free agency  has been a media-induced myth, while 2010 represents a once in a generation exception. Walsh's strategy to land a big fish or two has promise, but had he inherited the 2003 Knicks in 2008, clearing 2010 space would be impossible – sort of like the current situation in Indiana.
5) NO YOUNG TALENT (25 and under):
2003 Young Knicks: Mike Sweetney, Frank Williams, Maciej Lampe, and Slavko Vranes
2008 Young Knicks: David Lee, Nate Robinson, Wilson Chandler, Renaldo Balkman, and Mardy Collins
Rest of NBA: Most of the NBA had at least 2-3 young players still valuable today. By 2004, even the expansion Bobcats of Emeka Okafor, Gerald Wallace, and Jason Kapono had far superior young talent before playing a single game.
What Would a Real GM Do? Ironically, the worst management performance over the last five years was probably by Donnie Walsh-Larry Bird's Indiana Pacers [4]. The 2003-2004 title-contending squad had still young trio of Jermaine O'Neal, Ron Artest, and Al Harrington. These three have become the well-paid Mike Dunleavy, Troy Murphy, and TJ Ford – all solid enough to sustain continued mediocrity thru 2011.
Roster Reality: Unlike Miami's young Caron Butler and Lamar Odom, Sweetney and Lampe weren't going to land Shaquille O'N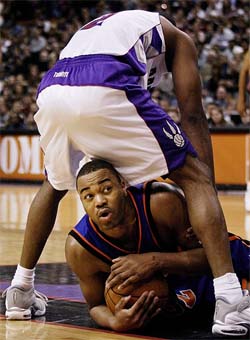 eal.
6) NO PATIENCE:
2003 Knick Climate: The 1990s annual playoff runs spoiled Knick fans silly. Today local media waxes poetic about the glorious "Ewing Era", but on the day he was traded, the New York Post had "GOOD RIDDANCE" as its back page headline. Tough town… I know.
However, this was followed by the brutal Scott Layden GM era from 2000 – 2003. The only center from Georgetown around was Othella Harrington – who Layden obtained with a 1st round pick. Knick fans were completely demoralized, and Patrick Ewing wasn't going to walk through that door. But Isiah Thomas would.
Rest of NBA: Philadelphia is like the Bahamas next to the Knicks pressure cooker in 2003.
NYC Reality: Thomas immediately obtained Stephon Marbury for two draft picks (first was used on Kirk Snyder in 2004), and virtually every Knick fan was cheering. Today it is popular not only to denigrate that trade, but the strategy itself. Today many say Thomas should have "rebuilt through the draft" (he is a great drafter). This all sounds pretty and nice, but has absolutely no basis in reality at that time, in that city, with that media, in that climate. Despite no trade bait, Thomas had to make a big splash and make it soon or he would have been run out of town in two years for "doing nothing". Rebuilding through the draft was NOT – AN – OPTION. New York ain't Atlanta, patience wasn't a virtue then, and amnesia is not one now.
Pop Quiz: If you move into a penthouse, and I move into a crack-house, and five years later you can't tell the difference – who is the better housekeeper?
Don't answer that. Because if you do, some of your favorite GMs might get double Isiah's scorn. I would never wish that on Larry Bird! I'd much rather keep talking and reading about what a great draft pick Donnie Walsh made over 20 years ago! And while discussing Reggie Miller, hindsight demands we reevaluate Thomas.
The impact of Isiah's GM mistakes has always been grossly overrated [5], and effect of his own terrible coaching (and Larry Brown's) has been vastly underrated [6]. Isiah's biggest GM errors were ones of chemistry (see Steve Francis and Zach Randolph trades). But GMs who move into abandoned buildings can be forgiven for collecting furniture at garage sales that might not match. Talent can always be swapped for other talent to improve chemistry. Rarely is the reverse true. While Isiah did the dirty work, few in media acknowledged his toxic working conditions [7].
Now Donnie, who received a  free media ride since Day 1, is the beneficiary. Many will allow Donnie to wait until 2010 and credit him for "having a plan" (at least 572 Mike Lupica articles anyway). But Walsh could only swap for Al Harrington because Isiah was able to obtain Jamal Crawford with Othella Harrington (and others). Losing Kurt Thomas for Nate Robinson meant fewer wins for Isiah, and future wins for Donnie. The trade for Malik Rose brought laughs at the time, but that draft pick became David Lee.  Thomas had to swap picks in 2007 as part of "the Eddy Curry trade", but because the 23rd pick in Isiah's hand (Wilson Chandler) may be stronger than the 9th pick (Joakim Noah) in John Paxson's hand. Isiah left Walsh a far more talented, tradable, and younger team than the one he had received. The before-and-after photos clearly show that Thomas has been a good GM.
Since losses were inevitable under any GM, the only other fair measure is NBA history. Jerry Krause's post-Jordan 1999 Bulls is the last similarly putrid roster on record – and they averaged 19 losses for the next six years. The post Bird-McHale-Reggie Lewis Celtics of '93-94 also had an all-time pathetic squad – and would not taste more than 36 wins for the next eight years. Do we really need to talk about the Clippers' 25 year run? Without that lucky #1 pick in one of those special years, NBA history sends a clear message:
Red Auerbach on steroids couldn't have rebuilt the 2003 Knicks in five years.
The truth is that Isiah Thomas did his job. But he will likely never overcome his greatest mistake of all:
He took the job.
To your left is the Worst GM TO EVER WORK IN THE NBA!