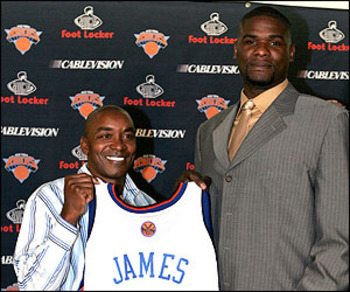 Isiah Thomas and Jerome James were all smiles in the summer of 2005
A new NFL season is rapidly approaching and for millions of sports fans that are bored to tears with baseball, this means they have another chance to play GM with their fantasy football team. This, along with the "Franchise Mode" in the Madden, NBA Live, and NBA 2K video game series has led to the delusion that they could successfully run a professional sports team. While this is false in almost every case, you would be hard pressed to find an average Joe who would have been more reckless with James "Daddy" Dolan's money , than Isiah Thomas when he convinced Jerome James to become a New York Knick in 2005 by waving 30 Million Dollars in his face.
Now hindsight allows us to see just how cancerous this contract, worth $30 Million over 5 years, was. But foresight should've been just as revealing. We're talking about a player who never averaged more than 5.4 points , 0.5 assists, 4.2 rebounds, or 17 minutes per game before signing with the Knicks in '05. Was that  Jon Koncak like production worth $6 Million per year over 5 years ? The answer is without a doubt no. But the Knicks fell for the alluring promise that Jerome James showed during one playoff series in his contract year. As Howard Beck of the New York Times so aptly described following the free-agent signing that would contribute to the Salary Cap nightmare that Knicks fans were forced to endure over several years, "James arrives as a mercurial player with a largely unspectacular résumé, but it is the final line of that résumé that has the Knicks intrigued. In the first round of the playoffs against Sacramento, James averaged 17.2 points and 9.4 rebounds."
In essence Jerome James was being rewarded not for his body of work but for a fleeting flash of brilliance against a Sacramento team that suited up Brad Miller and Greg Ostertag at the center position. It's worth noting that Chris Webber didn't play in that series either.
Of course James' time with the New York Knicks went on to be a miserable failure. He played in only 90 games over 4 seasons before being traded to Chicago along with Tim Thomas and Anthony Roberson for Larry Hughes. He pulled down a total of 163 Rebounds. He dished out 15 breathtaking assists.(or $2 Million per assist for those counting at home) He rejected the hell out of 39 shots (slightly less than $1Million per block) and picked 10 pockets(you do the math) during his Knicks career.
Jerome James is the classic case of a player who is signed as a free agent to fill a void that a specific team has. At the time the Knicks had no real center and the league was being dominated by big men. These factors are what drove the price up to a point where the Seattle Supersonics were no longer interested in retaining his services. The Knicks needed a big man and were willing to overpay for a mediocre player. They took a chance and they were burned badly. Jerome James was constantly hurt, and/or out of shape.
This wasn't a bad pickup off of your fantasy football waiver wire. This set the Knicks back for years and was the blueprint for players who don't care about much after getting paid following their contract year. Isiah can't take all the heat. Certainly James was overpaid before the pen even hit the paper but if he showed any resolve and desire to make a positive contribution to the team he could have at least made the contract palatable. Jerome James chose a different career path instead.
Big Shout out to TheRealShaq.com for allowing me to take part in this series. It's been an honor to collaborate on such an informative and entertaining project. Listen to Carl and Abhi promote The Jon Koncak Commemorative Awards on Knicks Fanatics Radio – episode 8
This latest Knicks Fantics Radio Episode caused quite a stir and even led to a couple posts regarding the show's content.
Follow me on twitter.com/aaronhodges and twitter.com/knicksradio
And check out some of my other pieces at KnicksFanaticsBlog.com
The Curious Case Against LeBron James
The Best Starting 5 in the NBA