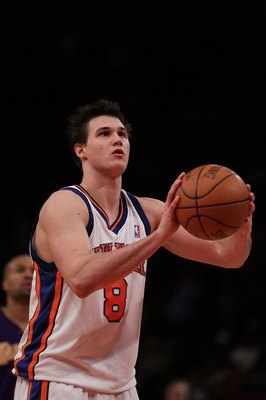 The best things in life are free. If you're an NBA player, the only thing better than a breakaway dunk is a trip to the foul line, especially if you're Danilo Gallinari. Yesterday afternoon the Knicks as a team shot just 19 free throws, with Amar'e Stoudemire attempting 12 of them. Gallinari didn't visit the charity strip once. This was almost as crucial in determining the outcome against the Atlanta Hawks, as Jamal Crawford's timely shooting.
Say what you will about Gallinari. Like it or not this team will live and die by his scoring production.  He was almost invisible during this game, particularly in the first quarter when there was a heavy emphasis on running the pick and roll with Raymond Felton and Stoudemire. Gallinari barely touched the ball, attempting a lowly 6 shots the entire afternoon. 
During the Knicks 5 game winning streak Gallo attempted 48 Free Throws, making 46 of them.  That's just under 10 attempts per game, which you can safely say with all the confidence of Mark Sanchez in the two minute drill, amounts to at least 8 points a night from the line.
The Knicks as a team got to the line 51 times against the Los Angeles Clippers. That's a big difference from the 19 they attempted on Saturday.  It's not the only reason they lost. That list is longer than the unemployment line. But the Knicks need to find a way to get Gallo involved early, earning trips to the line for guaranteed points.