Follow Your Knicks
If you're on Twitter this season, you can follow a few of your Knicks on your account.  If you're not on Twitter, you can follow some Knicks tweets on our right sidebar or at TwitterAthletes.com.  For those interested, here are the confirmed addresses for some of our guys:
Amare Stoudemire: http://twitter.com/amareisreal
Kelenna Azuibuke: http://twitter.com/KAzubuike7
Roger Mason, Jr. : http://twitter.com/MoneyMase
Anthony Randolph: http://twitter.com/TheARandolph
Ronny Turiaf: http://twitter.com/RonnyTuriaf14
Danilo Gallinari: http://twitter.com/gallinari8888
Landry Fields: http://twitter.com/landryfields
Wilson Chandler: http://twitter.com/illwil21
THE NOT-OTP SECTION
"He's a unique talent and we have to find the right place for him to play, because he's not a standard four, three, whatever. We'll have to be able to utilize his talents and put him on display." Mike D'Antoni on Anthony Randolph
Like our man on near the street, Peaceman, even the Wall Street Journal's due diligence has Randolph as a promising investment. Stephen Curry certainly says he will miss the chance to play alongside Randolph.  "Man, I was really looking forward to playing with Randolph but he had that ankle injury halfway through the year last year," said Curry.  "The potential he has and the athleticism he has, he is kind of like a freak out there that can pretty much just do everything.  So you guys are getting a great player put in the right situation.  Also, Coach D'Antoni will give him some great coaching.  He'll become a great player." Curry Plays The "What If" Game (Hoopsworld).
Amare has been doing a lot of camera work this summer.  We liked the following ad found courtesy of The Knicks Blog
As you know Amar'e took a spiritual and educational journey to Jerusalem this summer. With some of the media unsure how to characterize his search for knowledge and others not so subtly mocking his interest in religion and Judaism in particular, the following video offers a nice unfiltered view of what Stoudemire is about.  It makes me wonder though how long it will take for some of New York's snarky media professionals to characterize this clearly intelligent man as having a low b-ball IQ hidden by playing alongside Steve Nash and Grant Hill.  Oh, its coming because too many New York basketball journalist act like they're smarter than almost everyone associated with sports.
You can get more Amare Stoudemire at his website, Amarestoudemire.com. and blog.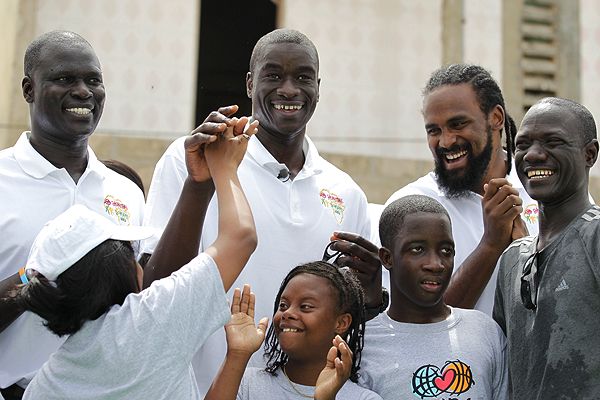 Amar'e is not the only one traveling abroad this Summer.  Danilo Gallinari and Rony Turiaf were in Senegal with the Basketball Without Borders Program in Africa.  They were there to deal with the serious issues of HIV/AIDS and malaria awareness.  Richard Lapchick was there with the athletes and coaches and he wrote this compelling piece for ESPN.
THE OTP and OTHER TANGENTIALLY RELATED STUFF SECTION
Knicks fans are still anxious to get their own big three so we are still talking about OTPs like Carmelo Anthony and Chris Paul.  One OTP who seems to be getting more press than fanfare is Tony Parker, who right now is but a mere afterthought for most Knicks fans.  In a Q and A with ProjectSpurs, I talked about how Tony Parker is not really high on our list, especially not for $13.5 Million per at the age of 28.
"Basketball means something to him. I see a lot of kids whose families are wealthy. He didn't have to do what he did because David was set for the rest of his life. He does it because he loves the game." Kelvin Lee, David Lee's coach (no relation) at Chaminade College Preparatory School in St. Louis
The personal stories about David Lee seem to get more interesting now that he is out of the media Mecca. Warriors' David Lee, born into wealth, looks to prove skeptics wrong through hard work (Oakland Tribune) is a great story about what motivates Lee to have such an excellent work ethic.  This man improved every year he was here and many would agree he had 1970s Knick written all over him.
For those keeping up with Michael Jordan's genetic heir apparents or MJ as Air Parent, here is a nice read about his sons, Marcus and Jeffrey, deciding to play together at Central Florida next season. (Broiled Sports).  They seem to be very happy preparing to do what they love together.  No, Central Florida did not play Isiah's team Florida International last season.  Wouldn't it be something if they faced each other this season and a fight just happened to break out after Isiah pointed in Marcus' direction while lip-sync singing to his players.
If you ar interested in the Lakers and how they are going to cope with recently suped up competition, you'll love the three part series by The Purple and Gold Blog.  Check out 2010-2011 Lakers, Part I, Part II and Part III.
During the dog days of summer, bball bloggers are being very creative in finding new and interesting material to discuss.  Two of the most compelling series are on Bloguin.  Jeff Fox of Hoops Manifesto is working overtime to pull together a 30 part series on the Top 10 players of all-time for each team as selected by Bloguin bloggers.  As of this writing he has made it to the D's with an excellent piece on the Dallas Mavericks.   Knicks Fanatics was able to have some input on a couple of selection committees, but those weren't the only top ten lists that ended up fodder for excellent debate.  When you get a chance check out the pieces on the Boston Celtics, Charlotte Bobcats,  Chicago Bulls, Cleveland Cavaliers.  I'm stilll trying to figure out how Robert Parish rates lower than Dave Cowens.
Another intriguing series is The Jon Koncak Commemorative Awards , a group of articles written, almost daily in August, about the worst contracts in NBA history.  This effort organized by the folks at RealShaq.com references an inordinate number of contracts that have been held by the Knicks at one point or another. You can see the complete list of articles here, but I do have a few favorites;  Among them are the Twolves blog entry on Kevin Garnett's contract, Jaime Oppenheim of the Nets Blog, WhoopDeDamnDo, on Richard Jefferson and Don's (With Malice) piece on Kwame Brown.  Abhi is leading a great series but I am still trying to figure out what the hell he was doing with a tiny penis drawn across James Dolan's forehead to highlight his entry on Stephon Marbury. The Knicks Fanatics will be contributing a couple of entries later this month.
Just on GP (general principle) you've got to checkout College Wolf, Derek and gang at the Twolves Blog; not because College Wolf is almost an honorary fanatic and graces us with his presence and commentary, but because they keep it pretty interesting at the home front even though they should be blogging about the cold front in Minnie.  In addition to the piec mentioned above they have some nice work on Larry Hughes' contract and Minnie's new unis.  They may not play like an NBA team but they will certainly be sharp looking.
Let's end with this video I saw of some boys doing some trick shots into a small poolside basketball hoop while jumping off a deck.  The degree of difficulty is indisputable, but how interesting the feat is can be a source of debate until you go to sleep tonight.  Enjoy,