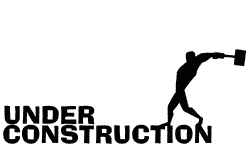 Well, what do you know?  Knicks Fanatics Blog and the New York Knickerbockers have something in common — both are under construction and experiencing technical difficulties after the draft.  The difference is that Knicks Fanatics Blog is willing to offer an apology and a refund.
In case you haven't noticed, Knicks Fanatics has been alternately losing comments and posts and visibility due to maintenance issues with Bloguin, the mothership.  The short of it is that due to tremendous growth of blogs, in an effort to avoid future problems, we began the process of switching to new servers which turned out to be more of a disservice and disturbance to normal operations.  However, we will get it right soon and return back to our regular action and irreverent Bball coverage.
The Knicks on the other hand continue their effort to reconstruct the Knicks in the most uninspired fashion.  For two years, as the Knicks have dismantled the squad for an improbable run at LeBron James and Dwyane Wade, they have assembled little more than temp-shooters-for-hire and have turned the regular seasons into 82-game tryouts.  With their selections in Thursday's draft, the Knicks continued the trend of engaging raw or limited talents suited for support roles while failing to address major team needs such as point guard leadership.
We hope for the best and cannot fault the youngsters selected who have worked hard to gain this opportunity.  It is possible that Andy Rautins (drafted 38th by Knicks) at 6'5″, 195, may develop into an excellent role player.  His three point shot is very good and he has good court vision although running the point is really not his game.  Rautin sees himself as a cross between Steve Nash and Dan Majerle which is also a reference to his defensive tenacity.  Hard work and specializing as a defender could keep him in the league, but after five years in Coach Boeheim's zone, he promises to be exposed and abused by faster, stronger, and taller guards on a Knick team with no concept of help defense.  Rautin may turn out to be a nice pick.  Good luck to him.
Landry Fields seemed like a stretch for the Knicks — a move that had everyone scratching their heads with Lance Stephenson still on the board.  Fields, out of Stanford is a skinny 6'7″ small forward, who can play the shooting guard role which puts him on the depth chart permanently behind Danilo Gallinari for as long as Gallo is on the roster.  Fields is definitely a smart youngster, but is most likely a role player due for some tough days against more athletic NBA opponents.   The more popular move would have been to take a shoot at Lance Stephenson who went with the next pick at 40.
The Knicks topped it off by picking up center Jerome Jordan by purchasing the 44th pick.  Walsh certainly has a profile for the players he likes or so it seems.  Jordan is reminiscent of Jordan Hill, the Knicks lottery pick traded to Houston to clear cap space.  Like Hill, Jordan started basketball as a late bloomer.  The Jamaican Jordan has only five years of high level bball experience and the learning curve for big men in the NBA is steep.
Yep, the Knicks are under construction, but what they are building seems to be begging for an apology and some refunds.