After a horrible performance against the Warriors, the West Coast road trip continues with a game at Staples Center against the struggling Lakers. The Knicks better bring their A-game this time round because, for all the hate they've received so far this season, the Lakers are still a top-tier team.
Luckily for the Knicks, the Lakers are another team with a major weakness at the point guard spot. Unfortunately, the man next to Derek Fisher (who'll be running the point) is a future hall-of-famer who, at his age, can still go off on any given night. Kobe is angry right now; the cancelled CP3 trade is still fresh in his mind (especially with him strutting his stuff for the Clippers in the same building) and he's not happy about the poor start either. Kobe is extremely dangerous when he's angry.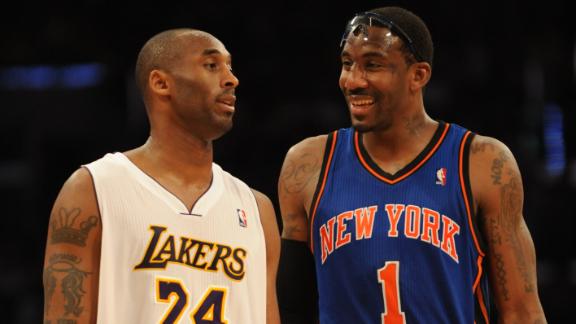 The Knicks and Lakers match up well, with elite power forwards in Amar'e and Gasol and elite scorers in Melo and Kobe but the one advantage the Knicks have is Tyson Chandler, who won't be facing the suspended Andrew Bynum. This could be the one match-up that tips the game in the Knicks favor but it will still take a collective effort to get that W.
Both team's bench units are equally underwhelming, especially with the Lakers losing Odom. The premier Laker off the bench is Metta World Peace and along with him the Lakers will throw out the likes of Josh 'McBob', Steve Blake and Troy Murphy (who couldn't even earn minutes on the thin Celtics roster last season). As we know from last night, the Knicks reply isn't much better and three games in to the season we'll already – due to injury – be reaching into the depths of our bench, bringing on Lin and Jordan – not a good sign.
Once again, I'm going to predict a Knick victory, but after last night's poor showing I'm not quite as confident. The keys to the game will be shooting a higher percentage, playing good defense in all 4 quarters and maybe going in a different direction at the point for the time being (maybe Lin or Bibby should start).