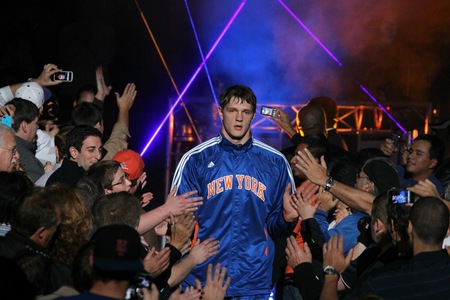 "I Just breath a little bit." Timofey Mozgov could barely contain his excitement as MSG's Tina Cervasio asked him how he was able to overcome his slow start in Sunday night's game against the Detroit Pistons.  His eyes were wide with excitement as he focused on speaking English as fluently as the Russian rookie could. Being interviewed in the post game is unfamiliar territory for the Mozgov, but after racking up DNP's at the end of Mike D'Antoni's bench and breaking out for 23 points and 14 rebounds in 40 minutes there was no better person to talk to. This night belonged to Timofey Mozgov.
With Shawne Williams serving a one game suspension for his dust up with Marvin Williams of the Atlanta Hawks, Wilson Chandler out with an injury and Amar'e Stoudemire likely to be limited, D'Antoni was forced to let a few dogs out of their house. This was Mozgov's chance to make an impression and announce to the world that he belongs in the NBA. He made the most of it, but his performance wasn't completely unexpected. Raymond Felton had his back.
"It didn't surprise me. I was more happy for him then anything. Catching the ball like he did tonight and making jump shots, he could be another weapon for us."
He could be. Let's hope he gets another chance.