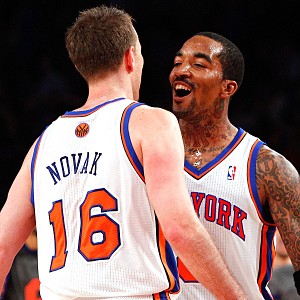 Rod Thorn readily admits the Knicks are not a team anyone wants to go to war with because they are, in a word, dangerous.
"Really dangerous," Thorn said. "They've got a guy to protect the rim in [Tyson] Chandler. [Carmelo] Anthony's playing at the top of his game right now. He's engaged. The [Iman] Shumpert kid has done a great job for them. He's going to be a real good player. They've got guys coming in who can score. They're dangerous any given night."
With the team confident, the only thing that might trip this club up is a regression to the Knicks of the past. However, this is a totally new franchise that seems to have locked up the demons of D'Antoni and hidden the key. The Knicks are the team that neither the Bulls or Heat want to play in the First Round, for good reason. When Chandler, Amare and Melo play their game, Shumpert feeds off it and locks down whomever is in front of him. JR Smith and Novak are the true X-factors for us to go all the way. These SIX guys bring their "A" game and Baron Davis brings his "B" game or better….. we are going to a Parade! Believe it!