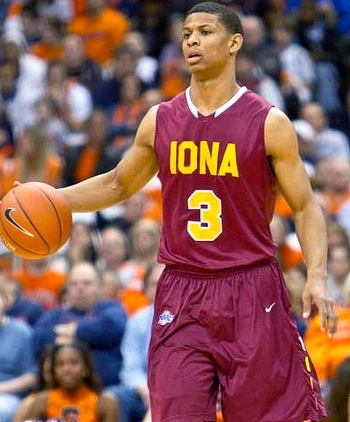 How many of you knew the Knick have pick number 48 in this years draft??? I for one overlooked it. However, here is DX Express breakdown of the local point guard from Iona. From DX Express:
After finishing second in the nation in assists per game in 2010-2011, Iona's Scott Machado still entered his senior season as a player under the national radar. Through only seven games this season, however, Machado has changed that in a big way, catching the attention of NBA scouts with some big outings against the likes of Purdue, Maryland and St. Joe's.
Machado spent the summer representing Brazil at the World University Games, and has entered this season with an improved conditioning level and leaner physique, giving him a quicker burst with the ball in hands, and the ability run Iona's up-tempo offense for over 36 minutes per game so far this season.
Standing 6'1" with a strong, sturdily built frame, Machado isn't a top notch athlete at the point guard position by NBA standards, but he does appear to have the physical tools to be able to compete on both ends of the floor as long as he maintains his conditioning level.
On the offensive end, Machado does much of his damage in transition, leading Iona's high-octane attack and showing excellent court vision leading the break with the ability to thread the needle to a teammate running the floor or find an open shooter at the 3-point line. He has a great command of the ball and moves very fluidly and confidently with the dribble with a nice top speed, while also having a knack for making difficult passes look easy.
In the half-court, Machado is less dynamic, but is still very effective thanks to the extra burst he has this season, which enables him to get into the paint more frequently off the bounce. He shows excellent passing instincts when attacking the basket, whether it be dump-offs to cutters for layups or kick-outs to open shooters. His lack of size and vertical explosiveness hurts him an a finisher, however, and would likely be a bigger issue in the NBA with the longer, more athletic players he'd face once he entered the paint.
Machado has also shot the ball much better this season, albeit in a very small sample size, improving his percentages on 2-pointers, 3-pointers, and from the free throw. His solid early season 39% from behind the 3-point arc will bode well for him if he can sustain it for the remainder of the season. He certainly shoots the ball like he thinks he's a shooter, confidently spotting up and pulling up from well behind the NBA 3-point line on occasion without any hesitation. He has a decent stroke and fluidly shoots the ball off the dribble, but he could probably stand to be a bit more selective with when to fire away from deep.
Defensively is where scouts will likely have their biggest questions marks with Machado. Iona mixes up its defenses quite a bit, with some pressing and some zone, so Machado hasn't had to play as much half-court man-to-man. In what we could see, however, he looks like he has some work to do to defend point guards at the NBA level. His lateral quickness looks mediocre, he's a bit on the smaller side, and he's been beaten off the dribble badly on a few occasions and also has done a poor job fighting through screens. Some of this could be correctable and some could be a result of the system he's in, but this will likely be an area that NBA teams will want to get a better gauge of as they assess his potential at the next level.