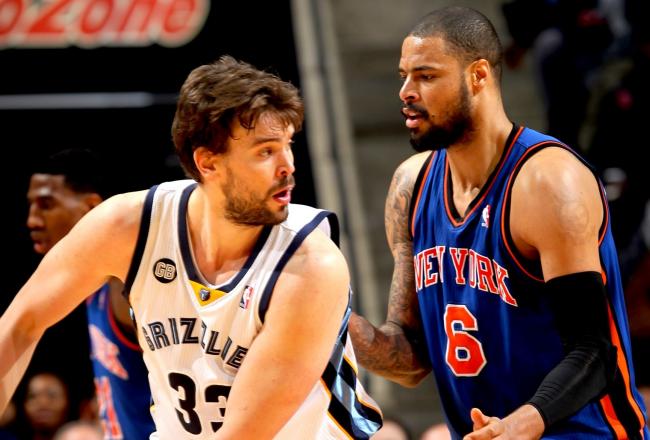 The two hottest teams in the league square off tonight as the Memphis Grizzlies host the New York Knicks.
Head to head, the favorite is 4-1-1 ATS in the last 6 meetings. The Grizzlies are 18-5 ATS in their last 23 home games vs. a team with a road winning % of greater than .600, 4-1-1 ATS in their last 6 home games and 6-0 ATS in their last 6 games overall. The Knicks on the other hand are 13-3 ATS in their last 16 games playing on 0 days rest, 8-3 ATS in their last 11 vs. Western Conference and 25-10 ATS in their last 35 games overall.
The Memphis Grizzlies are off to their best start in franchise history after dismantling the Oklahoma City Thunder 107-97 on Wednesday to secure their sixth straight victory. Just two nights after making light work of the Miami Heat, the Grizzlies looked equally impressive on Wednesday, opening up the game behind a 36-15 second quarter. Rudy Gay continued his strong start to the season with a season high 28 points for a Memphis team ranked in the top 10 in points, points allowed, assists and rebounds per game.
The New York Knicks are 6-0 for the just the second time in franchise history and the league's only remaining unbeaten team after knocking off the San Antonio Spurs 104-100 on Thursday night. Despite trailing by 12 points with only seven minutes remaining, the Knicks didn't give up as they closed the games on a 22-11 run to continue their blistering start to the season. J.R. Smith added 17 points, Jason Kidd had 14 and Tyson Chandler 13 for a New York team who snapped a nine game skid in San Antonio.
When ESPN made this a National TV game I don't think anyone expected both of the Grizzlies and Knicks to be form they are currently in. If you didn't know any better, you would think Memphis and New York are the front runners for the title they are playing that good. While I love this Memphis team, how can you possibly not take the points in this one ( -6) ?
Source One's pick : New York by 20