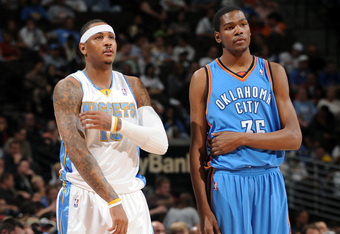 EDIT: Carmelo Anthony is out tonight, so we'll miss out on what promised to be an amazing scoring match-up between he and Kevin Durant. Instead, Amar'e Stoudemire will have to carry the offensive load. It will be fiery swingman Bill Walker starting in place of Melo.
The 6-5 Knicks, who have certainly improved a tad on their early performances, are in Oklahoma City tonight, to take on the Northwest division-leading Thunder (10-2).
The Thunder, thought by many to be the cream of the crop in the Western conference, are playing extremely well right now and their record shows this. Kevin Durant is as good as ever, averaging over 25 points per game and 'sidekick' Russell Westbrook, when not shouting at teammates, has chipped in as well.
OKC are a very well-built team, with scoring, interior defense and a lot of excitement making the Chesapeake Arena one of the toughest road venues for any team in the NBA. Not to mention the crowd noise, which always presents a playoff-style atmosphere, similar to what the Knicks are used to at Madison Square Garden.  
Kevin Durant is one of those few players who cannot be stopped and who defenses can only hope to contain. With Carmelo guarding him this statement will almost certainly run true tonight. What we may see (and I hope to see) is a pretty intriguing back-and-forth scoring contest between Melo and KD, especially when it comes to crunch-time.
It will take a special peformance from these Knicks to defeat a team like the Thunder but, despite early-season strugles, the Knicks do have two players – in Amar'e Stoudemire and Carmelo Anthony – who are perfectly capable of winning a game single-handedly on any given night.
I expect a close game, with scoring in the late nineties or eary hundreds and a buzzer-beater victory, hopefully coming from the hand of our Carmelo Anthony than from the Thunder's Kevin Durant.