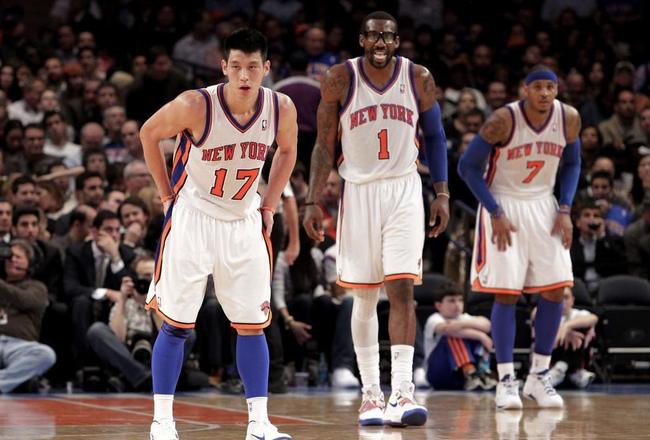 Do we want to go into next season with Ray Felton and Jason Kidd as our point guards? Felton in 2012 is not the same as Felton in 2010. I question if he is in NBA basketball shape and if he can recover his outside shooting–only 30% from beyond the arc last year. Similarly, If Jason Kidd's recent DWI arrest is an indication of how he intends to behave off court, I would be quite concerned if I am MSG management. Kidd was presumably brought in to mentor Lin, but what sort of role-model does he provide? Is his recent drunken misconduct incident a one time occurrence or is it part of a larger alcohol problem previously hidden from the public. Did the Knicks do a proper background check? . Kidd and the Knicks have some serious damage control, including a show by Jason of mea cultpa and much remorse (and/or rehab if Kidd ihas an AA problem) and/or some community service, before introducing Kidd to the fans and children at the Garden of Dreams.

I hope the above elements enter into MSG thinking before allowing Lin to walk away for nothing. I cannot believe that the Knicks will be better without Lin and receiving nothing in return going into next season. The absence of a penetrating point guard who can run a pick n roll and dish off was sorely missing in the playoffs. Lin has demonstrated pure point guard skills who made his teammates better–Novak and Fields especially, but also Chandler and Jeffries. He also inspired the fans, juicing ujp the Garden crowd, and his teammates in what for the Knicks was the most exciting part of the season: See MSG Countdown Highlights of Linsanity Moments.
The Knicks had very few games when everyone (Stat, Chandler, Melo and Lin) was healthy, could practice, and could play on the floor at the same time. The Cleveland game in late February 2012 was one in which all played and the Knicks scored 120 points — and Lin had a double-double inclujding 13 assists. It would be Woody's job to make the units work, and a full pre-season training camp was planned with Lin et. al. being present. Now that pre-season is in danger. If Woody looked depressed in Vegas yesterday and woujld not talk to the media, I understand why.
The Knicks seemed perfectly comfortable with the initial Lin contract offer from Houston of $5 mil. (1st yr), $5 mil (2nd yr) and $9 mil.(3rd) year, including whatever additional luxury taxes that would carry.. Woody said the Knicks would "absolutely" match that contract. Yet somehow the incrrese from $9 million to $14.8 million (a difference of $5.8 million) now makes the issue a major problem. Is the added "luxury tax" — that will not come until the 3rd year — so much a concern that the next season must be forsaken without Lin on board and all that he brings to the floor?
"Linsanity" resulted in a substantial increase in MSG stock as well as in Cablevision advertizing revenue and a new, more lucrative deal with Time Warner Cable TV. What happens to that stock when Lin is gone, Felton comes into camp overweight, and Kidd has another DWI incident, this time injuring another driver or pedestrian. Will the Knicks win more games without Lin? Will they make a deeper playoff run? Will Dolan sell more season tickets or more playoff tickets? How about the Asian American and China market for Lin T Shirts, Knick yearbooks, NBA League Passes and the good public relations/business opportunities resulting from trips to Taiwan, Hong Kong, and Beijing? All of the above should more than cover the "luxury taxes" involved. Ask a Harvard graduate to add it all up. .
Lin's contract may be out of whack, but only in the 3rd year. He could be traded after year 2 or before, so that the Knicks can get something back in time. Lin will be a more desirable trade chip than either Felton, DWI Kidd, or Pablo Prigioni. Lin may also be persuaded to renegotiate a lower 3rd year contract in return for a guranteed 4th year extension and/or a no trade clause in the first two years. Lin has reported that he wants to return to the Knicks. Lin's contract is not nearly the fiasco contract paid to Eddy Curry or Jerome "Big Snax" James, or even to Larry Brown. At least Lin can play the point. DO NOT RE"LIN"QUISH LIN!